One of the significant perks of word-of-mouth marketing is the ability to spread good will. As fun as it is to share with others about products and services that you enjoy and that improve your life, sharing the causes that really fire you up have an impact as well. It's one thing to be passionate about your favorite music artist or author or brand of cereal but when you show others your passion for helping, whether it's helping children, animals, or the planet, you spread more than just information, you change lives.
Knowing that she had a viable platform and driven by a need to create change in the world, Fadra Nally joined with Heidi Oran, another like-minded blogger, to launch a place where influence could take root and spread. The result is Charitable Influence, a network for people (bloggers and non-bloggers) who want to use their social media reach to spread the word about causes that are important to them. Their mission statement:
Charitable Influence aims to provide an effective connection between bloggers and their unique voices, to charities and nonprofit organizations and the important causes they represent. In this connection lies a link that is so often overlooked – that of human compassion at a personal level and its interdependence to world issues on a major scale.

Our clients include charities, non-profit organizations, and non-governmental organizations (NGOs) to whom we provide services such as social media strategy, blogger insight, and campaign development, management, and facilitation. Our goal is to help find the most effective, in terms of cost and impact, channels by which to spread their message.

Our foundation is bloggers and social media influencers who have the hearts and the means to catalyze change in the world. Part of our mission is to help bloggers connect with causes that speak to their passions while creating and sustaining value to the skills they bring to those causes.
To become part of this exciting new venture, sign-up here.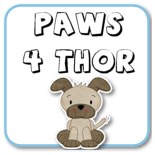 Last year, one of our favorite projects was spreading the word about GiveBack (now called DoTopia), a site that allows you to form your own charitable giving foundation. Through that project and GiveBack, one of our members was able to begin the process of raising money for her son to get an Autism Assistance Service Dog. When we last checked in with Erin, the money for the dog had been raised but she still needed funds to be able to make the trip with her son for training. And that's where they are today, still about $5,500 away from their goal. If you'd like to help, click here for more information.
What are some the causes that you are most passionate about?