Has something amazing happened in your life? Do you have news that you want to shout-out to everyone? It can be anything from reaching a goal to getting a great hair cut!
We love hearing about your good news, accomplishments, and accolades. Whenever you have something to share or if you know good news another O2O member, e-mail us at megaphone@one2onenetwork.com! We'll tweet it out, put it on Facebook, blog about it, and share it in our monthly newsletters to help spread the word.
To get this party started, we've got news from two O2O members to share with you:
Dusty, from
As Mom Sees It
, has been
identified as a possible bone marrow donor match
for a 6-year old child. She joined the
Be The Match Foundation
14 years ago! Read her story
here
and
here
.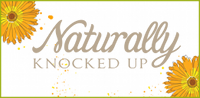 Donielle, from Naturally Knocked Up, authored a book by the same title that SOLD OUT on Amazon! (It's now available again with no waiting but maybe not for long, don't delay!)
What's going on in your life that you'd like to share?